ERS 2023: FeNO measurement for doctors and patients
European Respiratory Society International Congress 2023: Visit our booth for the latest insights on FeNO measurement and respiratory pathogen PCR tests at the point-of-care (POC)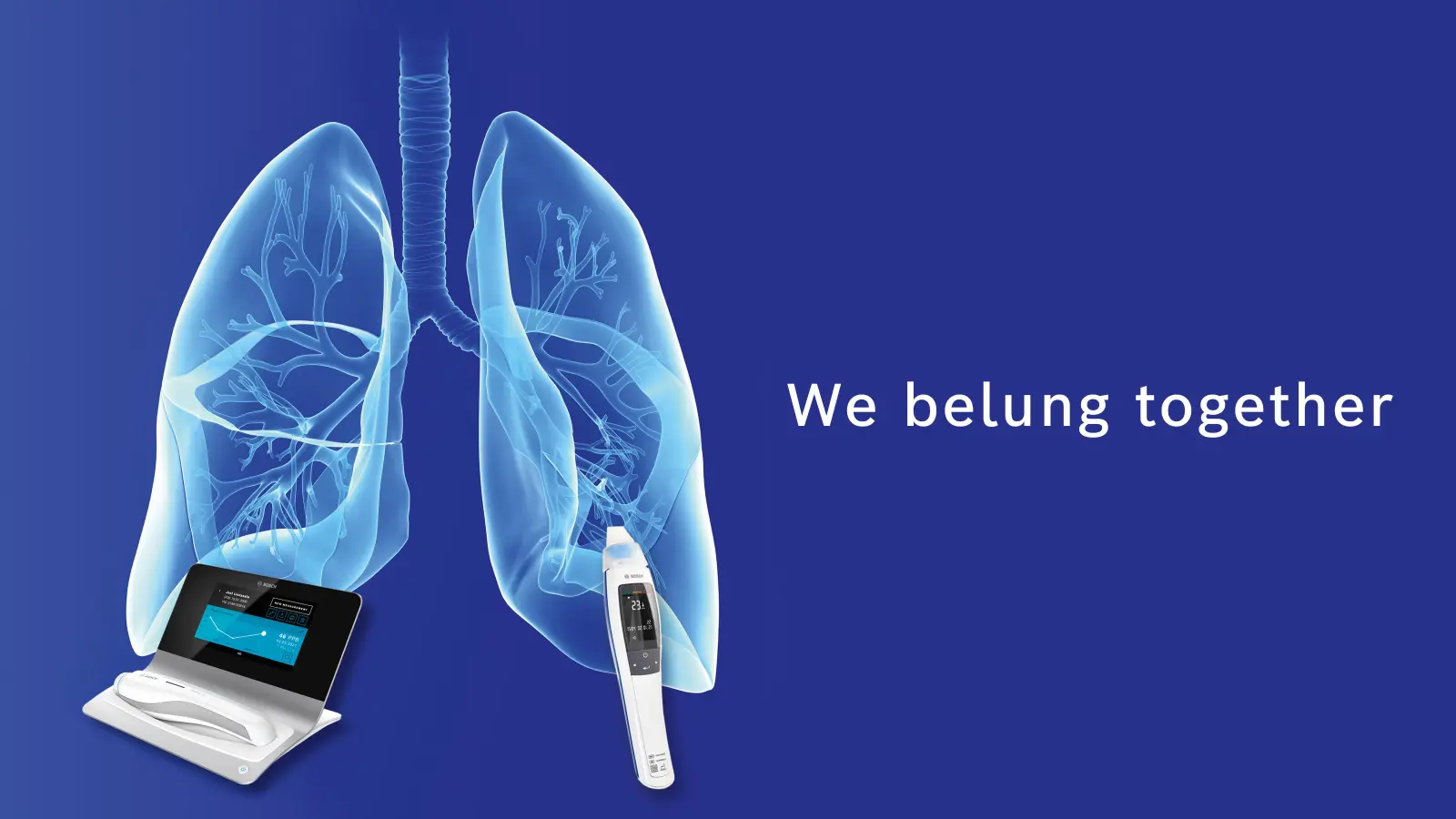 Bosch Healthcare @ERS 2023
Game changer at the point-of-care: FeNO and respiratory pathogen tests
Bosch Healthcare Solutions will be showcasing its latest POC testing developments for pulmonologists and other healthcare professionals at this year's ERS. At our booth, we will demonstrate how FeNO measurement with the Vivatmo system can sustainably improve asthma management – particularly when point-of-care measurement is enhanced by patients' home monitoring. Bosch will also present Vivalytic, the all-in-one solution for rapid molecular diagnostics, which also has respiratory pathogen PCR tests in its portfolio.
When: Congress 09.09.23 – 13.09.23 | Exhibition 10.09.23 – 12.09.23
Where: Hall 3 | Booth K.02 | Allianz MiCo in Milan, Italy
Who: Bosch Healthcare Solutions GmbH, Germany
What: Vivatmo (FeNO) & Vivalytic (molecular diagnostics)
Don't miss:

Poster Session

"FeNO@home"

by Prof. Heffler (PA3792) | Poster Area PS-10 | 12.09.2023, 8:00 – 9:30
Pay us a visit, we will be happy to welcome you at our booth!
Bosch Vivatmo system
FeNO in medical practice & FeNO at home for optimized asthma therapy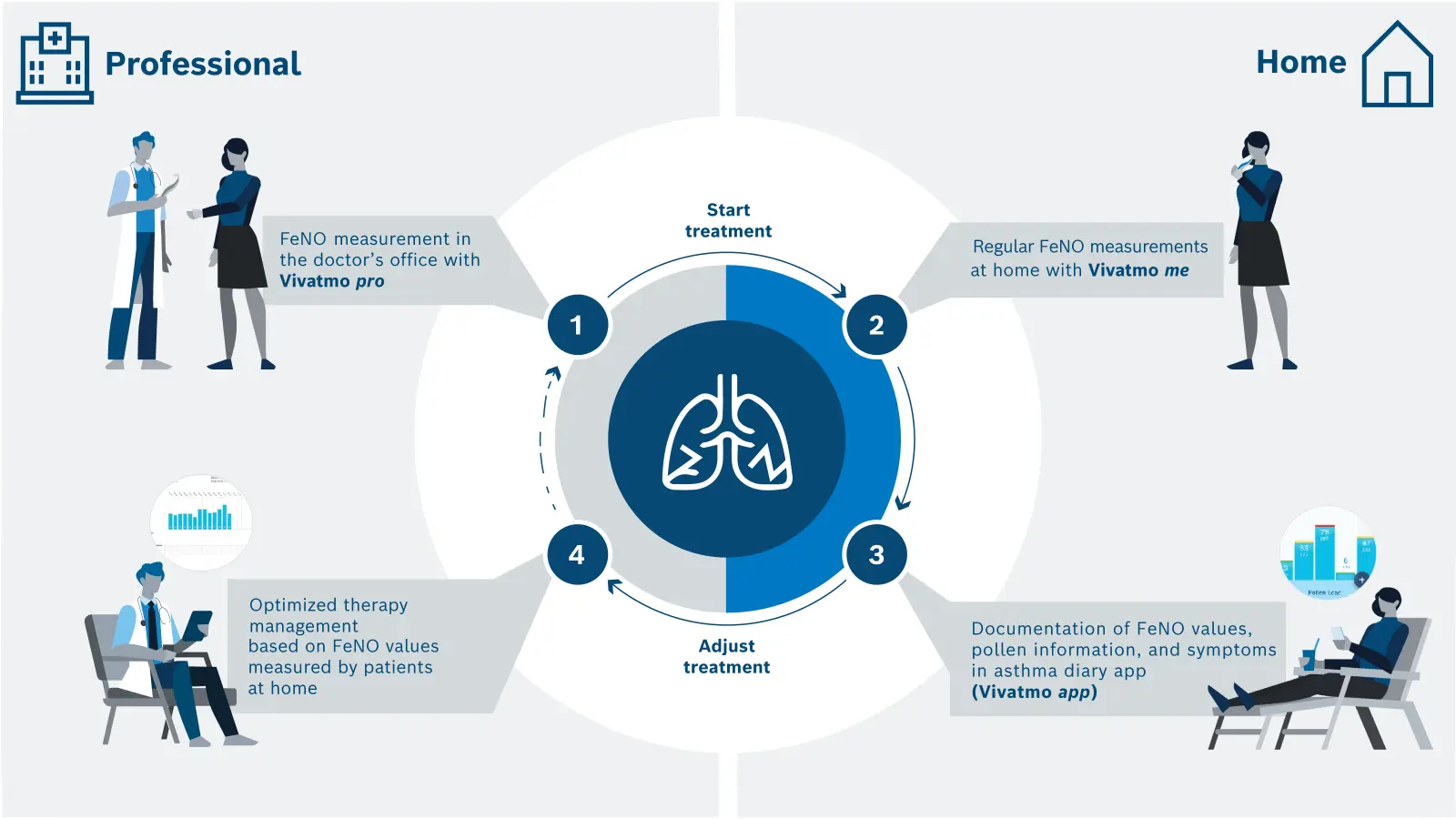 The biomarker FeNO plays a central role in the diagnosis and therapy of asthma. Bosch Vivatmo measures the FeNO level in exhaled breath simply and precisely. The Vivatmo system is built on two pillars:
Vivatmo pro for FeNO measurement in medical practices and clinics.
Vivatmo me for FeNO measurement at patient's home.
Home measurement also includes the free Vivatmo
app
, which serves as an asthma diary and digital link between doctor and patient. In addition, the disposable Vivatmo
oxycap
mouthpieces ensure maximum hygiene and reliable results for each measurement.
Regarding FeNO, the combination of POC and home measurement is unique worldwide. It opens up completely new dimensions in asthma management: Home monitoring provides the treating physician with more relevant patient data and measurement points. This can enable more precise dosing of medication, better control of adherence and exacerbations in dialogue with the patient.
What makes Vivatmo special?
The FeNO system connecting physicians and patients for optimized asthma management
Holistic system approach
Worldwide unique combination: FeNO in medical practice & FeNO at home for individual, need-based therapy in dialogue with the patient – for precise medication, better control of adherence and exacerbations.
Exceptional cost-efficiency
The Vivatmo system requires no recalibration, maintenance, or sensor exchange during the entire lifetime due to high-precision Bosch technology made in Germany.
Flexible operation
Portable, wireless handheld allows mobile measurements. Data is subsequently transmitted to Vivatmo app or basestation via Bluetooth.