Benefits of a FeNO-aligned therapy in pregnant asthmatics on the incidence of asthma in their children
Morten M et al. Managing Asthma in Pregnancy (MAP) trial: FENO levels and childhood asthma. J Allergy Clin Immunol 2018;142:1765-72.e4.
Study objective
To investigate the impact of FeNO-targeted asthma management during pregnancy on the unborn child in relation to the development of early childhood asthma.
Study findings
Frequency (%) of early childhood asthma diagnosis among pregnant asthmatic women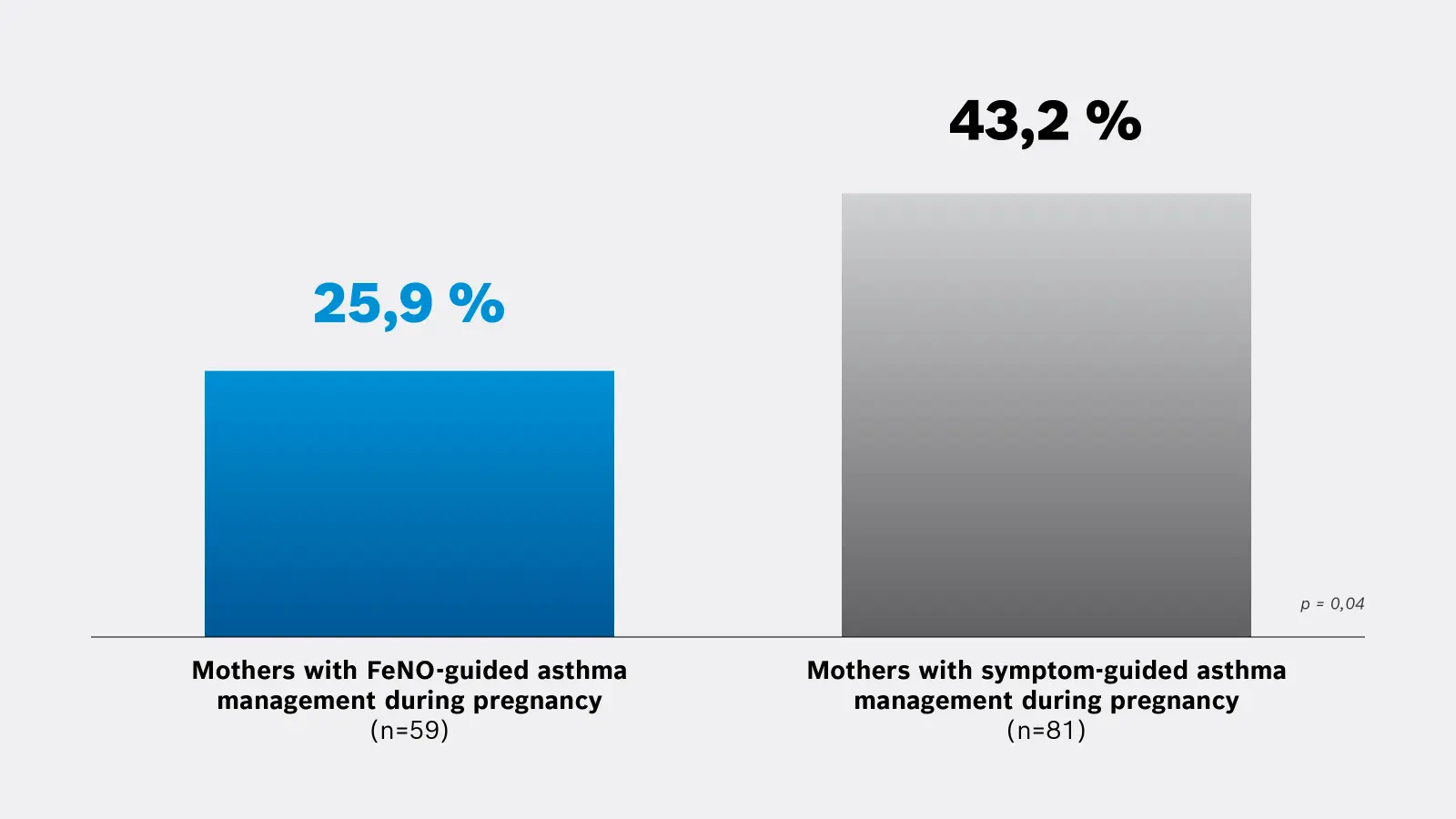 Asthma treatment of pregnant asthmatics targeted according to symptoms and FeNO levels resulted in a significantly lower incidence of a preschool asthma diagnosis in their children (25.9% vs. 43.2%). This is partly due to changes in the use and dosage of inhaled corticosteroids during the MAP study.
Benefits of FeNO measurement over conventional tests in asthma diagnosis
Smith AD et al. Diagnosing asthma: comparisons between exhaled nitric oxide measurements and conventional tests. Am J Respir Crit Care Med. 2004; 169(4): 473-8.
Study objective
To evaluate the usefulness of various diagnostic tests (including peak-flow measurements, spirometry, FeNO measurement and induced sputum diagnosis) in confirming the diagnosis of asthma.
Study population
47 consecutive patients aged 8-75 years who were referred by their primary care physician to the pulmonary function laboratory at Dunedin Hospital (Dunedin, New Zealand) for assessment for possible bronchial asthma. No patients were referred for specialist consultation, and there was no prior selection of patients except that each test person had to have had respiratory symptoms for at least six weeks.
Study findings
Test sensitivities in comparison (%)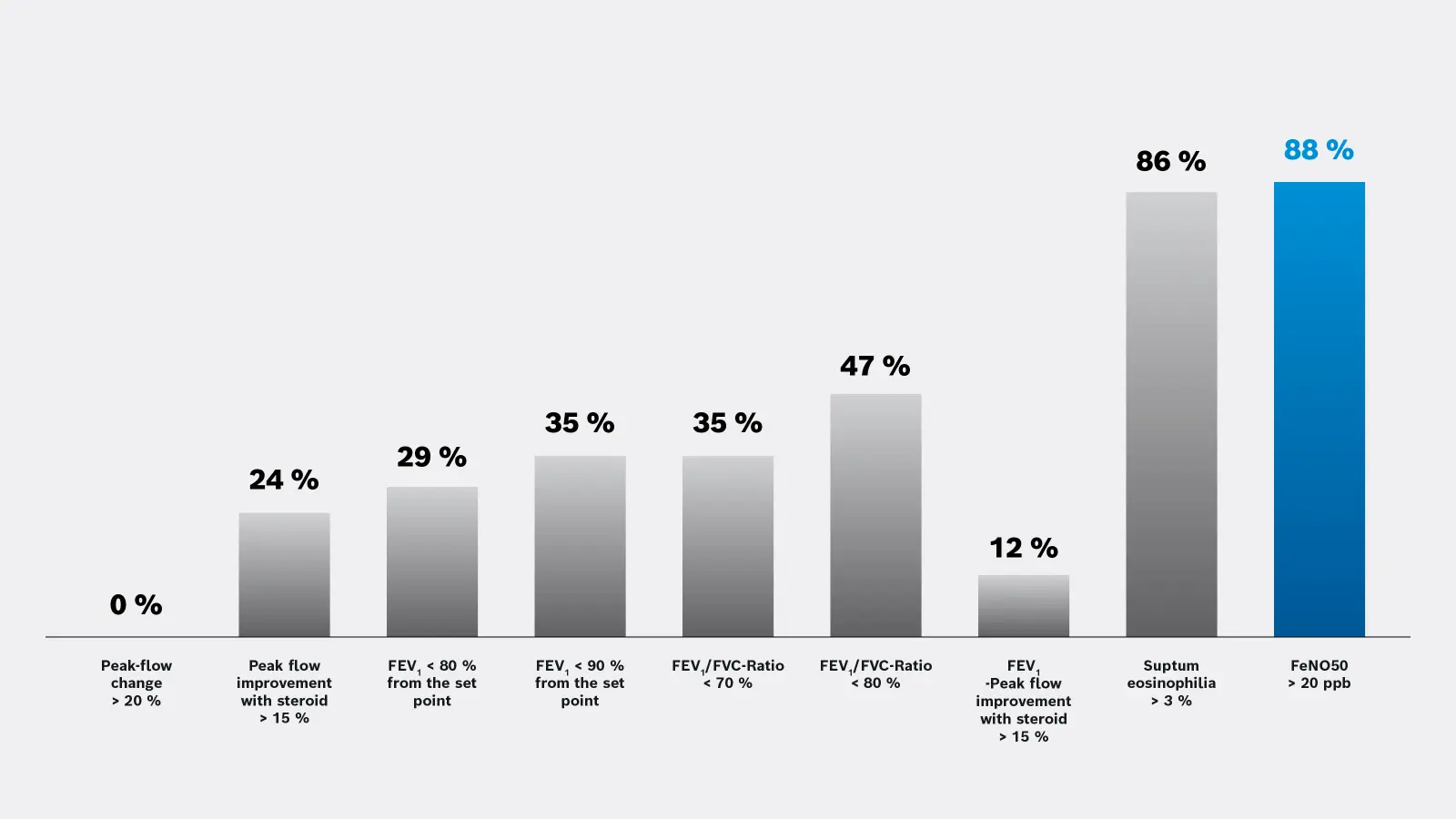 The study shows that FeNO measurements and induced sputum diagnostics produce more reliable results than conventional methods, with FeNO measurement offering a major advantage in terms of ease, speed and non-invasiveness of performance by comparison.
FeNO measurement: reliable detection of the degree of inflammation of the lungs
Bardsley G et al. Anti-inflammatory duration of action of fluticasone furoate/vilanterol trifenatate in asthma: a cross-over randomized controlled trial. Respiratory Research (2018) 19:133.
Background
In this study, the British pharmaceutical company GlaxoSmithKline compared the efficacy of new steroid spry with that of a conventional steroid spray. The objective of the study was to determine whether the new medication has a longer lasting anti-inflammatory effect. FeNO measurement and peak flow measurement were used to detect the degree of inflammation in the lungs.
Study findings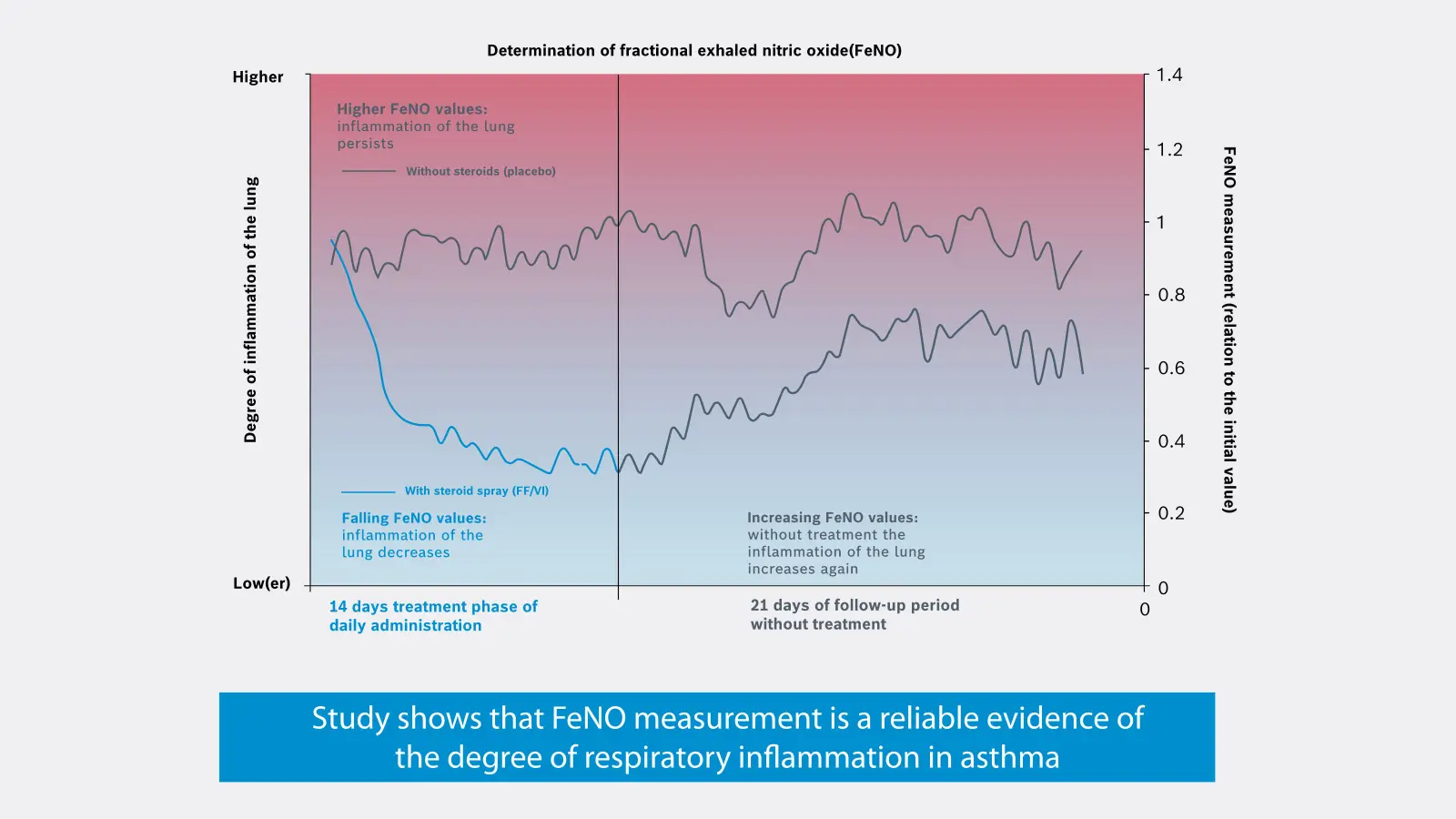 This study by the British pharmaceutical company GlaxoSmithKline on the efficacy of a new steroid spray shows that FeNO, as an inflammatory marker, was able to reliably detect the degree of inflammation in the lungs when the steroid was administered and discontinued, while peak flow measurement showed a high inaccuracy.
Measurement of FeNO value: comparison of three different commercial analysers
Korn S et al. Measurement of Fractional Exhaled Nitric Oxide: Comparison of Three Different Analysers. Respiration. 2020;99(1):1-8.
Study objective
The objective of this study was to compare the novel Vivatmo pro (Bosch) analyser device with NIOX VERO (Circassia) and CLD 88sp (Ecomedics).
Study findings
Difference plots in comparison
In the clinically relevant range between 0 and 70 ppb, the FeNO concentrations measured with all three devices were statistically equivalent within the predefined acceptance criteria and did not differ in a clinically relevant way. However, the highest success rate for obtaining two valid FeNO readings using the same device without failed attempts was achieved with the Vivatmo pro.